Do you know how difficult it is to find a doorbell button?
I do!
It's practically impossible. No exaggeration.
I thought a quick trip to Home Depot would get me exactly what I needed, but boy was I wrong!
Here's the deal. We're refinishing our front porch. We're getting closer to a finished product, so to keep me positive about the whole thing, I have started having mental visions about what the front of our house will look like. I'm excited about having found the "perfect" mailbox to hang next to our door - it actually works with our colors, and is in the same metal family as our door knobs. So last weekend, we were working, and I needed to run out to get lunch, and Greg asked if I would mind picking up a doorbell button since our existing one is basically garbage - it probably cost the previous owner less than $1 for the ugly plastic button which wasn't even really attached to the door frame. So, I agreed, thinking to myself that it will be fun to find a doorbell button that looks good and will get us one step closer to an appealing front entrance.
I had no idea that the choices were so limited...or that they would be so far off from our style that I'm not so sure that getting rid of the plastic P.O.C. that we have on there now is a great idea.
SO FRUSTRATING!!!!
Our house is a very light yellow. Our front door has a glass insert that has gold trim on it (which I don't love, but I am not going to buy a new door just because of the glass. So, to match the glass stuff, we bought doorknobs that are antique brass so they would compliment the glass in the door. No biggie. Then, we found a mailbox - at Home Depot - that is antique brass and dark brown. Again, no biggie. Now, if we want an antique brass doorbell button we either need to use an ugly, flower-y, gaudy one or we need to go with polished brass (aka gold) which I am vehemently against. It seems if our hardware was brushed nickel we'd have so many more options! But, alas, we do not.
So, I gave up on Home Depot and reasoned that online stores should have some better options. Well, they do, technically, but to get an antique brass button, it seems I have to also want something kitschy. Like a dragonfly. NO JOKE!! They have dragonfly shaped doorbell buttons. And frog shaped ones. And ones that are supposed to be lady bugs but really look like dilapidated mushrooms.
I'm not complicated, I'd really like a rectangular, not overly large, simple, antique brass button with a lighted center. These two are the closest I've gotten: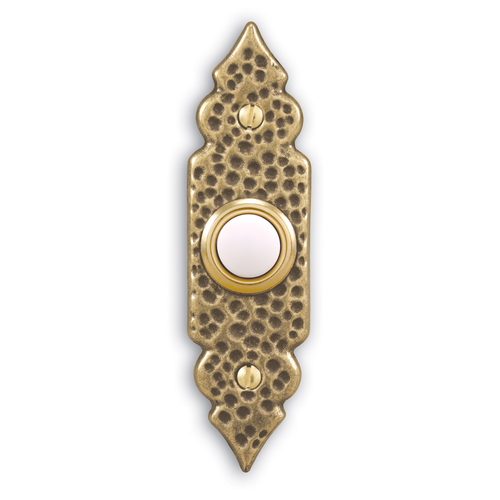 Kind of simple. But not really rectangular. And if I'm being honest - they're kind of floofy. Yes, floofy. That's a word. Look it up.
And don't even get me started on finding Antique Brass house numbers. That's been even more difficult. It's not like I've even found options for those in stores or online. It seems they simply don't exist.
HOW IS THIS POSSIBLE????
I might give up. And not have everything match. Or, worse, keep the same crap we have up there now - I mean, what the hell, right? Life's too short and all that jazz?
Except I think that giving up might kill me. Literally.